Greetings
Hello Readers,
Get exclusive FBM updates and reports on the global content industry with Frankfurter Buchmesse White Papers. Read on to know its benefits, how to register, and more.
Book your tickets for FBM 2018. Trade Visitor tickets and Business tickets at 30% discount! It doesn't get better than this. Find out below how, when and where to register.
Best wishes
Team GBO
THE NEW "CROWN JEWEL" OF FRANKFURTER BUCHMESSE: THE NEW PAVILION

| | | |
| --- | --- | --- |
| | | |
| The plan for the interior of the New Pavilion | | |
The plan for the interior of the New Pavilion

PAVILION | CONCEPT
Starting in 2018, Frankfurter Buchmesse will have an exciting new attraction: the Pavilion. This approx. 450 sqm, purpose-built structure will act as the main stage of the fair over all five days. The high-quality and iconic stage will be centrally located in the Agora.
On trade visitor days, the Pavilion will focus on book presentations, press conferences, award ceremonies, specialist conferences and trade meetings on specific industry topics. When the general public joins the fair on the weekend, they will discover an excellent cultural programme with an international mix of readings, author discussions, music, culinary highlights and more. Unlike at the other stages at the book fair, the programme at the modern Pavilion will be hosted by a moderator and organised in cooperation with exhibitors and other partnerships.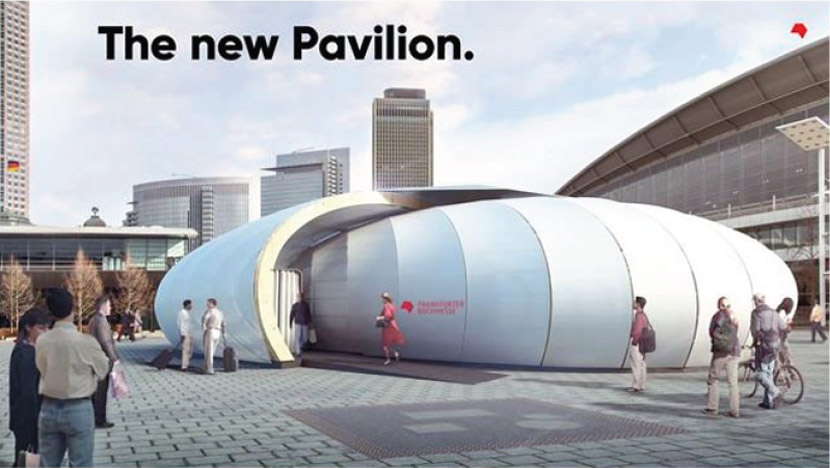 Planned entrance of the New Pavilion

ARCHITECTURE
An striking design by the Frankfurt architecture studio SCHNEIDER+SCHUMACHER acts as a central symbol of the book fair.
Location: AGORA | approx. 450 sqm floor space | approx. 300 seats
Maximum occupancy: 400 | approx. 32m x 32m | 7m high | self-supporting wood construction with a translucent membrane.
BOOK YOUR SPACE AT THE NEW PAVILION. CONTACT US!
Promote your authors, host a networking reception or a musical evening, and do much more. Get creative with this new space at the Frankfurter Buchmesse 2018!
Contact Angela Albert, German Book Office New Delhi for more information.


Frankfurt Book Fair Pre-Departure Meet, New Delhi


Friday, 15 September 2017
Max Mueller Bhavan, New Delhi
This year's Frankfurt Book Fair Pre-Departure Meet, New Delhi brought to light some ideas and strategies to help the exhibitors and business visitors stand out at the Frankfurt Book Fair this year. German Book Office New Delhi's Project Manager Angela Albert highlighted some crucial to-do's and how-to's for the fair as a part of her presentation. GBO New Delhi Director Prashasti Rastogi was in conversation with Kapil Kapoor, Director, Roli Book; Manasi Subramaniam, Senior Commissioning Editor, Penguin-Random House India; and, Mudit Mohini, Owner, Vishv Books. The panel shared their experiences of multiple years, and some insider tips and tricks for international business development opportunities at FBF.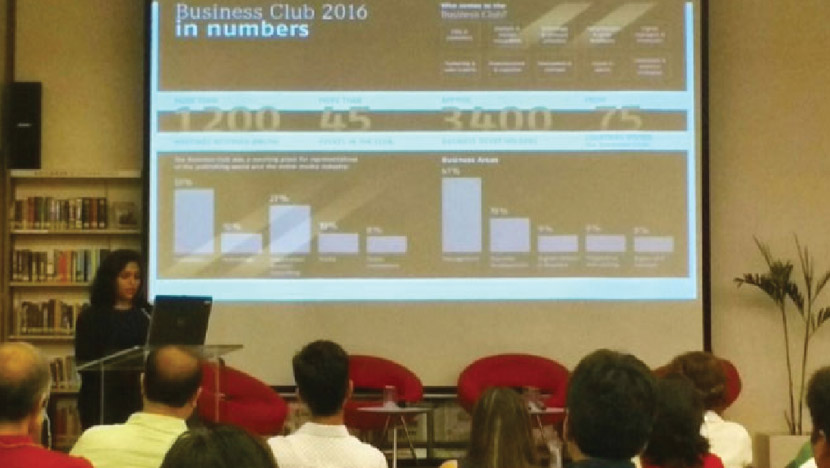 Angela Albert, Project Manager, GBO New Delhi speaking at the Frankfurt Pre-Departure Meet

Here are some excerpts from the presentation at Frankfurt Book Fair Pre-Departure Meet.
PREPPING UP IN ADVANCE
From July onwards, write to publishers and agents that you have identified. Book your appointment and meet them at the book fair in person. By end of September, your schedule should be finalised.
Share stand number information for appointments
Create a simple covering note introducing yourself, your publishing house and the work you do and include a link to your catalogue.
For Rights & Licenses training create a separate rights catalogue, include key information like number of copies sold, excerpts from positive reviews, author information, a picture of the book cover, a preview of some inner pages for illustrated book and so on.
DISCOVER AND BE DISCOVERED – NETWORK
Take Advantage of our Conferences
The Frankfurt Rights Meeting is the conference to be at for all rights and licensing purposes
Valuable tips from the top market performers at The Markets
The Arts+, the business festival for the creative industry
A Strong Presence
Business Breakfast –- The Business Club Hot Spot BOOKFEST –- The After-hours Networking
Marketing
Increase your reach with Social Media
Use advertising options
Carry enough business cards
Host event at your stand
Attract journalists, influencers and bloggers


The big news: Fuel prices cut by just one paisa per litre, and nine other top stories
Other headlines: Over 10 lakh bank staff began a two-day strike against 2% salary hike, and Modi kicked off his five-day tour in Indonesia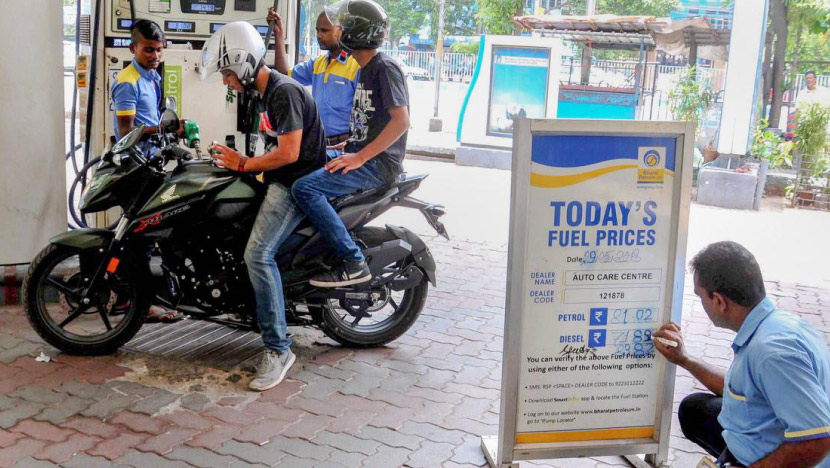 PTI

A look at the headlines right now:
Fuel prices cut by just 1 paisa a litre for today, 'clerical error' blamed for earlier announcement: Diesel and petrol rates were cut on Wednesday after Russia and Saudi Arabia announced their decision to relax restrictions on crude oil supply.
Nearly 10 lakh bank employees begin two-day strike against meagre salary hike: The United Forum of Banking Unions, a collective of nine bank unions, has called for the nationwide strike.
'India stands resolutely with Indonesia in the fight against terror,' says Narendra Modi in Jakarta: The prime minister is on a five-day tour to Indonesia, Malaysia and Singapore.
US ready for a June 12 summit with North Korea, but prepared for a delay too, says White House: Spokesperson Sarah Sanders said meetings taking place to save the summit show signs of progress.
Repolling under way at 123 voting booths in UP, Maharashtra and Nagaland Lok Sabha seats: Election officers reportedly had to change 384 faulty VVPATs and three EVMs during Monday's bye-poll election.
Delhi court grants P Chidambaram interim protection from arrest: The former finance minister also filed an anticipatory bail petition in the Delhi High Court in the INX media case.
Fire at rubber godown in Delhi's Malviya Nagar still not doused, air force deploys chopper: No casualties have been reported.
Four arrested for conspiring to kill Kannada writer and rationalist KS Bhagwan: The Karnataka Police are investigating if the suspects were involved in the Gauri Lankesh murder case.
Four-year search for Malaysia Airlines flight MH370 ends: Family members of the people who were on the flight have urged the government to not end the search.
Network of Women in Media protests two 'illegal and unethical' shows on Times Now: The network accused the channel of violating the law on in-camera trials in the rape case involving former Tehelka editor Tarun Tejpal.
ERNEST CLINE: BY THE BOOK

Ernest Cline

Credit Illustration by Jillian Tamaki

Ernest Cline, whose novel "Ready Player One" is the basis for a new movie, grew up reading: "Like many nerdy kids, I don't know how I would have survived without being able to escape into books." Get to know more about the writer and his writerly habits.